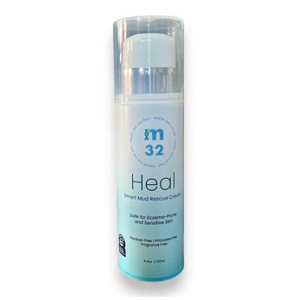 A breakthrough body lotion that provides deep hydration and pH balance. Combining the power of fulvic acid and hyaluronic acid, Heal Rescue Lotion helps to address skin irritation from within. Our patented nano-sized fulvic acid complex (Polyfulmate®) helps to deliver essential oils, natural minerals, and vitamins on a cellular level. HEAL allows the skin to quickly repair and regenerate naturally. Helps relieve irritation due to eczema and other sensitive skin conditions.
Based on user feedback, Heal may also help to alleviate symptoms associated with: Acne, Poison Ivy, Psoriasis, Shingles and Sun burn.
For eczema-prone skin and safe for sensitive skin
Paraben free
Phthalate free
8 oz (237 mL)
Proprietary Ingredients: Polyfulmate® (M32 Fulvic Acid Complex), Deionized Water, Mineralized Oil from Plant Sources, Vitamins A, C, D, E, Cocoa Butter, Certified Organic Essential Oils of Jojoba, Sweet Almond, Olive, Coconut and Grape Seed, Extracts of Aloe Vera, Coconut, Zinc Oxide, Sorbitol, and Proprietary Organic Ingredients. NO FRAGRANCE ADDED.
Caution: External Use Only. If irritation occurs, discontinue. If pregnant or nursing consult with your physician prior to using. Avoid eye contact, but if exposed, rinse with warm water.
Directions: Apply to body and eczema-prone areas twice daily or as needed to soothe dry and irritated skin.