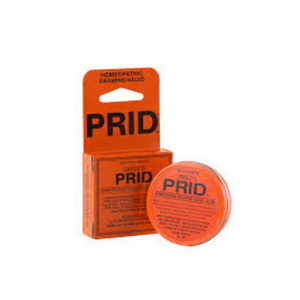 Homeopathic drawing salve also aids in relieving the discomfort of minor skin irritations, superficial cuts, scratches and wounds.
Ingredients: Acidum Carbolicum 2X HPUS, Ichthammol 2X HPUS, Arnica Montana 3X HPUS, Calendula Off 3X HPUS, Echinacea Ang 3X HPUS, Sulpher 12X HPUS, Hepar Sulph 12X HPUS, Silicea 12X HPUS, Rosin, Beeswax, Petrolatum, Stearyl Alcohol, Methyl & Propyl Paraben.
Caution: If symptoms persist for more than a week or worsen, of if fever occurs, contact a licensed health care professional. Do not use on broken skin. In case of accidental ingestion, seek professional assistance or contact a poison control center. For external use only. Avoid contact with eyes.
Directions: Wash affected area with hot water, dry and apply PRID twice daily on clean bandage or gauze. Do not squeeze or pressure irritated skin area. After irritation subsides, repeat application once a day for several days. Children under two years, consult a physician.